High quality Mask Stereolithographywith large build volume: 345.6 x 194.4 x 400 mm
Enormous Speed up to 2363 cm³ /hour (144 in³/hour) at 100 micron layer height
High resolution with 3D Surface smoothing technology.
More than 1 quadrillion Voxels each with a 0.090 mm x 0.090 mm x 0.10 mm voxel size
Professional Resins - Solidator Resins are specially formulated for high speed curing of large volume prints. These materials have outstanding properties.
Professional Software - GPU-Accelerated Slicing Software that generates supports & slices in record time.
Reliable, ultra-fast production of functional end-use parts of any size
Solidator 3+ and Solidator Functional Material are optimized towards real end-use parts manufactured in record time. The Solidator Functional Resin is much stronger, stiffer and more scratch-resistant than Polyamide (PA12), while still offering enough impact resistance and flexibility for snap-fit applications. It is also the material with the highest build speed on the Solidator 3+.
Extremely Fast: 2363cm³ per hour (144 in³/h)
The Solidator is an ultra-fast Next Generation Resin 3D Printer. It prints 20x as fast as a comparable FDM Standard Printer and 10x as fast as SLA printers. The Solidator prints up to 2363 cm³ per hour. Have a look at the printing times of these objects:
Extremely Large - Build volume of 26.9 liters
The Solidator is not just fast but you can print really huge models up to 345.6 x 194.4 x 400 mm (13.61" x 7.65" x 15.75"). It is also possible to print multiple smaller models in one print. With this it is ideal for small batch productions, prototypes and single-part production.
Advantages of our 3D printing process for large 3D printers   
High throughput using resin 3D printing
The mask stereolithography 3D printing process used achieves the highest throughput, because each layer is cured at once via a mask exposure - a time-consuming point-by-point processing of the construction space as with SLA 3D printers, FDM 3D printers and SLS 3D printers is not necessary . The large construction area makes this advantage particularly large. The Solidator is the largest resin printer that does without the disadvantageous perforated printing plate.   
Lower acquisition costs than SLS 3D printers and DLP 3D printers
By using the LCD mask technology, the acquisition costs of the system can be reduced compared to DLP 3D printers and at the same time the resolution can be exceeded.
Optimized material consumption
Another advantage is that no large material basin is required as with SLA 3D printers or SLS 3D printers. Instead, a low filling level of 800 ml in the material tank is sufficient. Only material that is actually used is constantly refilled via an automatic refill system. The reduction of the material tank volume results in high cost savings. The large material tank is often a disadvantage in a classic SLA 3D printer, because in the case of the Solidator 3+ it would already contain 26.9 liters of material. Resin 3D printers that work traditionally using top-down stereolithography methods still need this material supply today and are therefore not an economical solution for most users. Resin printers that work according to the bottom-up method have clear advantages here.
Very high surface quality
The surface quality is comparable to laser-based SLA systems and far better than SLS and FDM technology. In fact, one of the main reasons for using an LCD as a mask instead of a DLP chip is the higher native resolution. The LCD enables higher native resolutions than DLP systems.
Resins for functional parts
The printing process is particularly suitable for stiff materials. With the materials specially manufactured for the Solidator 3D printer, it is also possible to produce very large functional parts in a cost- and time-efficient manner. The Solidator is an industrial 3D printer that brings its own range of materials.
GPU-Accelerated fast Slicer with automatic support generation
Solidator Studio is the professional all-in-one software package for model preparation, support generation and GPU-accelerated slicing. Resin settings and material knowledge is already preset in the software for reliable printing. It enables you to prepare existing 3D models quickly and easily for printing with the Solidator 3D Printer. Solidator Studio is supported on Windows 7/8/10.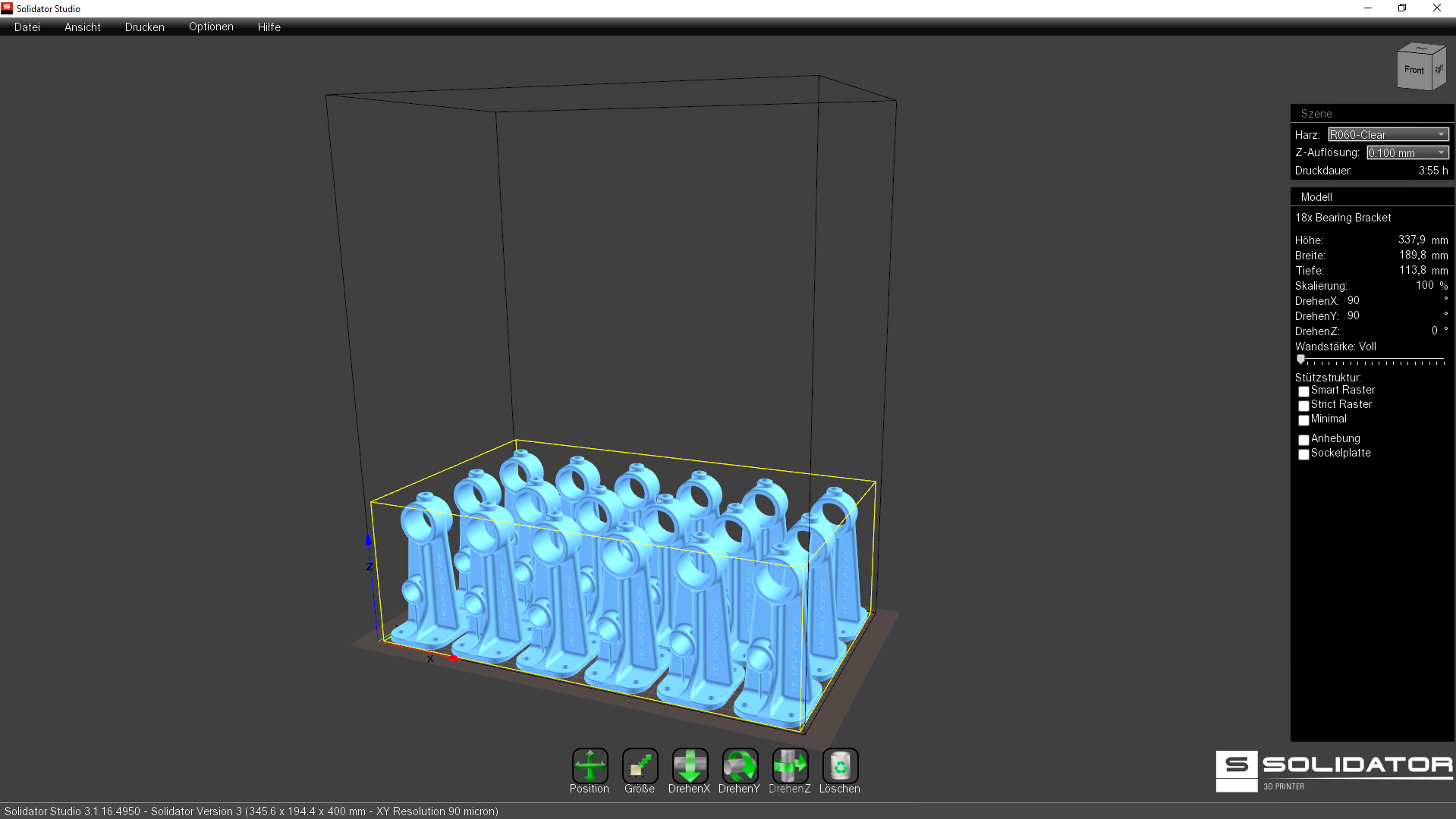 Resins for high-speed printing & high level of precision
Solidator Resins are specially formulated for high speed printing of large volume prints.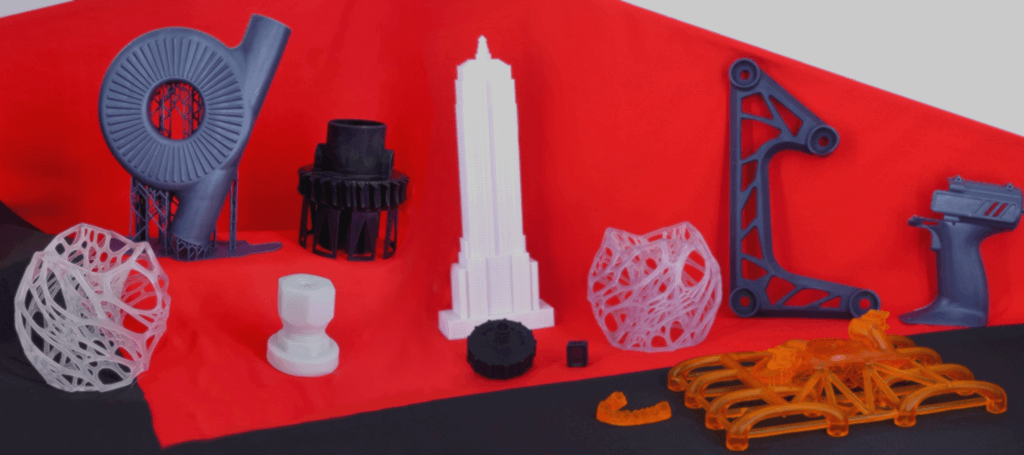 Solidator Functional Resin (R031)
This resin is much stronger, stiffer and more scartch-resistant than Polyamide (PA12), while still offering enough impact resistance and flexibility for snap-fit applications. It is also the material with the highest build speed on the Solidator 3+. It features extreme dimensional accuracy in all directions. It is suitable for connectors, housing components, brackets and, above all, functional parts. It also offers high heat resistance.
Solidator Black Resin (R010)
Solidator Black Resin offers medium strength and medium bend-resistance. It is particularly suitable for initial design iterations, figures and housing parts used under ambient temperature and medium load or impact conditions. Since June 2017, this material has been used to produce parts for the Solidator 3D printer.
Solidator White Resin (R051)
This resin in white color is especially suitable for architectural models. It offers high impact strength, low warpage and high dimensional stability. This also allows the use as functional components.
This material is frosted clear after post-cure. It offers high impact strength and scratch resistance. It has good mechanical properties and high dimensional accuracy. It is mainly used in Flow Analysis, Architecture, Lightning Applications and Art
Solidator Professional Translucent Orange Resin (R001)
This resin has high scratch-resistance, high bending resistance good tensile strength and high heat deflection temperature. Ideal for mold-making and prototyping of small to medium sized objects.

See the Material Properties Comparison Table and Material pages for more information.
Modern touch enabled standalone 3D Printing
The Solidator has an integrated touch-enabled computer for untethered printing. You do not need a PC running next to the printer. Transfer your print files via USB, Lan or Wifi to the printer. The modern HTML 5 Web Interface helps you to organize and monitor your prints. With this you can set the printer to a place other than your workplace.

Truly plug & play reliable printing out of the box
Fully assembled - factory level-z setting - Resin settings are fixed in our software for each supported resin. The Solidator offers a complete ecosystem to make sure you get the best output possible. We integrate Hardware, Software, Resin and Support.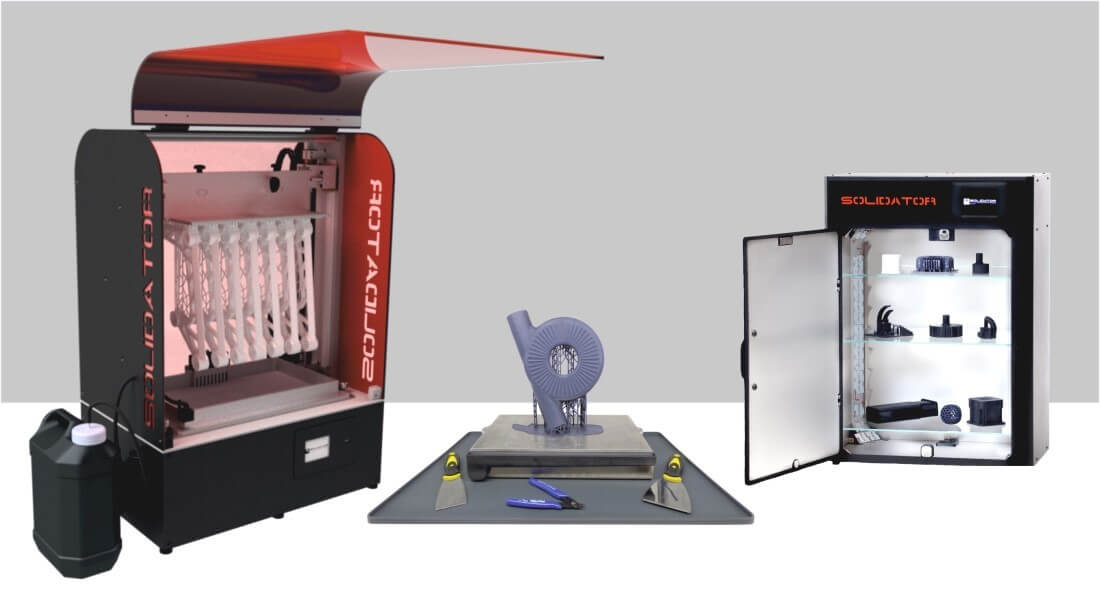 Trusted by Industry Customers
From initial prototype to large scale production our customers constantly innovate and produce every day. Being able to get support, materials and parts in time is mission critical.
Technical Specification
If you are interested in learning more about the technical details of our products, click on the Hardware page to see a breakdown of features and specifications. This will provide you with all the information you need to make an informed decision about our 3D-Printer. You can also download our Broschure or visit our shop: